I was eating dinner with my wife's friends last week and they asked me what my pet peeves were.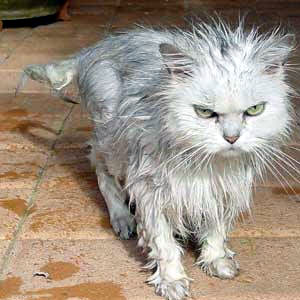 I think they expected me to say things like "people who bite their nails" or "people who chew with their mouths open".
They had no idea they were about to get a full lesson on gym etiquette.
They didn't seem to want one either.
Either way, I couldn't let my brilliant speech go to waste.
I had to share it with the world.
(In my case, the world equals the 100 people that actually read this site.)
My 7 Pet Peeves in the Gym
1. Lifting In Front of the Dumbbell Rack
You all know this guy ...
The one that stands right in front of the dumbbell rack, banging out a set of 1,000 bicep curls, checking himself out of the mirror.
Meanwhile, he is blocking access to half the dumbbells in the gym.
Don't be that guy....
How My Gym Would Look
Grab your db's.
Walk to an open area.
Do your set.
Bring the db's back to the rack.
Which brings me to my second point ...
2. Not Putting the Weights Back in the Designated Spot.
Let me get this straight ...
You go to the gym to get in better shape or get stronger...
Yet, you are either too lazy or too weak to put the weights back where they belong.
Now I have to go on an Easter Egg Hunt to find the 120's.
(Yeah, I said 120's)
Thanks buddy!
3. Leaving Sweat on the Bench
As a person who sweats like a madman, I am extra careful about following this step.
I sweat so much that my college strength coach told me, "Mahoney, you don't sweat ... you melt."
Me At Work
If you are going to sweat in the gym (as you darn well should), be a civil human being and clean it up with a towel.
No one wants to lay down for bench press and feel your stank on the back of their head.
4. "Asking" For a Spot
If you look at point #4, you will notice I used parenthesis around the word "asking".
Why?
Because there are a group of people out there who think they are doing me a personal favor by asking me to spot them.
They don't say,
"Could you please spot me on this?"
or
"Would you be able to break free from coaching 6 guys and spot me for a minute?"
Instead they say,
"Lemme get a spot..." (notice no question mark here)
or
"Wanna spot me ..." (again, no question mark).
Terrible ...
5. Making Me Do All the Work
At Advanced Training, we have a rule on spotting...
"If I have to touch the barbell, your rep doesn't count."
We will help you rack and un-rack the weight, but the movements during the set are all yours.
Unfortunately, the rest of the free world seems to have the exact opposite rule.
They want me to un-rack the weight, rip the bar off of their chest 15 times, and then tell them they did a great job on their set.
6. Doing 20 Sets of Anything in the Cable Rack
There are only two types of people that use cable racks.
1. "Grown Men" who use them for pull-ups
2. Everyone else
Unfortunately, the number of people in Group #2 far exceeds that in Group #1.
Even more unfortunately, Group #2 finds the need to perform 20 sets of the same exercise inside the rack.
Not only are you stopping "Grown Men" from getting better, but you are wasting your own time doing endless movements that will have no impact.
Seriously, how many sets of tricep extensions or cable-crossovers do you have to do?
Maybe if you were lifting like a "Grown Man", you wouldn't need 20 sets to "feel the burn."
Maybe if I write "Grown Men" more in this blog, people will get out of the cable rack?
7. Not Respecting Personal Space
I am performing a lunge, you walk in front of me.
I do a plank, you step over my legs.
I do dumbbell bench, you do curls within an inch from my head.
You do all these things, yet there is plenty of other open space in the gym.
Why?
My guess is that you are too lazy to take a few steps left or right to get to where you are going. It is probably the same reason you don't put the weights away or use a towel to clean your sweat.
Wrap-Up
If you are someone who does any of these 7 seven things, please stop right now.
The world does not revolve around you.
If have any other pet peeves you would like to share, please share them in the comments section below.
I would love to know if I am the only one with a problem.